Wildlife in the West
Apply by Feb. 1 for a $250 early-enrollment discount
Wildlife in the West is your opportunity to encounter more wildlife than you ever dreamed possible. During this action-packed month in our wild Swan Valley classroom, you'll practice telemetry, learn to track grizzlies, listen for the howl of wolves under a starry sky, and hunt for bull trout in cold mountain streams.
You will meet the people actively working on conservation and management of these imperiled species, as well as the inspired citizens helping to resolve wildlife conflicts in our western communities.
Landscape & Livelihood
Apply by Feb. 1 for a $500 early-enrollment discount
The Landscape & Livelihood Field Semester goes deep into conservation and restoration of working landscapes. In addition to offering engaging field studies and immersion into the Swan Valley community, we have been harvesting fruits and veggies from Beck Creek Gardens, the farm at our facility that has supplied our students with fresh produce for nearly the entire semester. Northwest Connections is also developing"Swan Valley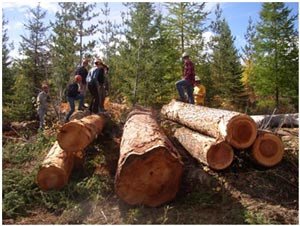 a sustainable business incubator, that is bringing students to the intersection of rural conservation and economic vitality.
To learn more, contact:
Andrea Stephens
Education Program Coordinator
andrea@northwestconnections.org
(406) 824-8820
or visit www.NorthwestConnections.org